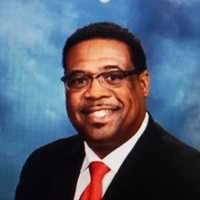 Ebenezer UMC's 156th Church Anniversary
By Michelle Means-McGruder | November 8, 2020
Join us for our 156th Church Anniversary service at 10:30 AM. This year our guest speaker is our very own Reverend Jeffery O'Neal.

Rev. Jeffery O'Neal is the Associate Pastor of the Nurture Division at Cascade UMC in Atlanta, GA. He assumed this position in July of 2020. Prior to his current appointment, he was the founding Pastor of Connections at Metropolitan UMC with the merger of the former Bowen and Henry M. White United Methodist Churches. He was raised at Ebenezer United Methodist Church in Jacksonville, Florida where he was a very active participant in the Youth Ministry and Boy Scouts. He graduated from West Virginia State College in 1984 with a Bachelor's Degree in Criminal Justice.

Prior to His call to ministry, Rev. O'Neal served as a Senior Counselor for the Georgia Department of Corrections. Upon answering God's call, he entered Gammon Theological Seminary at The Interdenominational Theological Center (ITC) Atlanta, Georgia. While at Gammon/ITC he served as Student Pastor of the Oak Hill Parish and received the Dr. Gerald O. McCulloh Church History Award and The Joseph W. Queen Award of Achievement. In 2002, He earned the Master of Divinity degree in Church History with Honors.

Rev. O'Neal was commissioned in 2002 as a Probationary Elder in the UMC. Upon being commissioned, he was sent to the Augusta District to start a new church. He is the founding Pastor of Transformation UMC. In 2005 Rev. O'Neal was ordained as an Elder in full connection. While in the Augusta District, he also served on the Program Board for Augusta Urban Ministries.

He has served several churches in the North Georgia Conference and has extensive training in Clinical Pastoral Education (CPE). He has served as Chaplain for Atlanta Medical Center, Grady Health Systems, and Aseracare Hospice. He was in the inaugural class of the Bishop Fitzgerald Program for pastors of new churches, General Board of Discipleship, Nashville, Tennessee, and completed New Church Pastors Leadership Academy, Office of Church Development, North Georgia Conference, the United Methodist Church.

Rev. O'Neal is married to Phyleshia Jackson-O'Neal and they are the proud parents of four adult children and seven grandchildren. He is a member of Kappa Alpha Psi Fraternity Inc. His hobbies include Golf, traveling and indoor cycling.

Back